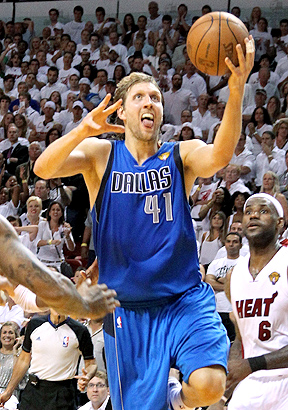 Yes, I am quoting the great sports philosopher from the 20th century, Yogi Berra to open this post. If you love basketball (as I do) and if you live in the DFW area (as I do), you most likely watched the great comeback by the Dallas Mavericks (15 down with just over 7 minutes to go) to tie their NBA Finals match-up with the Miami Heat to one game apiece.
Unless you were like me who got upset with the game and forgot Yogi's advice.
After that Mavs fell behind by 15 I was frustrated and I had had enough of the show-boating by the Heat. It was 10:30 PM and and after all I had an early start of the day on Friday. So I went to bed thinking the Mavs would be down 2-0. However, much to my surprise (and great delight), Dallas found a way. If you analyze what the the Dallas players said after the game it was very simple: "We did not think the game was over." So they kept playing, they kept trying, they kept playing defense, and they received the reward of a well-earned victory.
So what about your finances? Do you think it is too late? Are you ready to throw in the towel? Do you like living paycheck to paycheck without a plan for your money? Are you resigned to rely on the government to take care of you in your old age? It is never too late. It is not over until it is over.
You can:
Start managing your finances with a purpose by living on a budget today. It is simple.
Pay off your consumer debt with a proven method.
Start saving for emergencies. You need

3 to 6 months

of expenses.
Start saving for retirement (15% of your income) without wondering if Social Security will be there. By the way, I know Social Security won't be there for me when I get to that point in my life. The math is simple and the politicians lack the backbone to fix it. So no, I am not counting on them.
Get the insurance you need in place today. You need to manage the risks to your financial well being.
Put a will in place today. It is simple and inexpensive and it shows you care for your family.
All you can do is all that you can do. As Gandalf explained to Frodo: "All we have to decide is what to do with the time that is given to us." (J. R. R. Tolkien, The Fellowship of the Ring). The theme for the Dallas Mavericks for this year's playoff run is this: "The time is now." So what about you?
"So teach us to number our days,  That we may present to You a heart of wisdom." (Psalm 90:12 – NASB)
Please follow and like us: