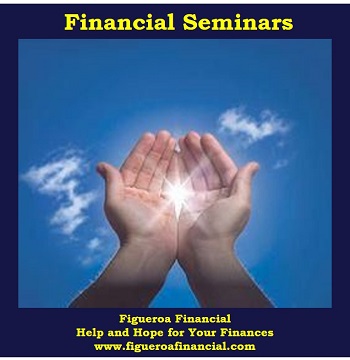 What if all of God's people were in control of their money?
What if they were living on a budget, out of debt, and had savings for emergencies and for the future?
I am firmly convinced that God's people struggle with giving because they struggle with managing their money and it feels like they don't have enough.
I am ready to come alongside church leaders and help to change this situation.
Together we can bring help and hope to God's people in the area of finances.
My 9-week financial seminar is ideal for churches. It is based on my e-book "7 Principles for Financial Success" with 2 lessons on marriage and money from my 2nd e-book "Not Mine, Not Yours, But Ours".
The seminar covers topics such as how to live on a budget, how to save money, and how to get out of debt.
The last session brings it all together around the subject of giving and stewardship.
I am available to conduct the financial seminar anywhere in the DFW area in either English or Spanish.

Seminar: 7 Principles for Financial Success
Principle #1: Live on less than you make: Get on a Budget.
Principle #2: Be prepared: Save for Emergencies.
Principle #3: Reduce risk: Avoid consumer debt and payoff the mortgage early.
Principle #4: Think about the future: Save for Retirement and save for College.
Principle #5: Diversify your investments: Don't put all your eggs in one basket.
Principle #6: Love your family well: Work with your spouse. Get insurance. Prepare a will.
Marriage & Money: The 3 Fundamental Stones for Financial Unity
Marriage & Money: Creating a Money Management System
Principle #7: Give extravagantly.
This post is also available in: Spanish