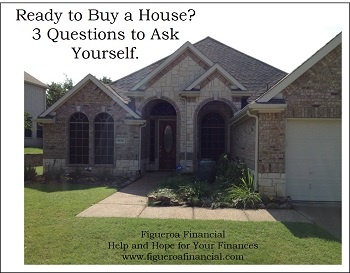 The "American Dream" that we are all encouraged to chase includes the purchase of your own home.
With mortgage interests rates still reasonably low, it seems like a great opportunity and you might be thinking that this is the right time for you to buy a house.
Of course, I believe that everyone should strive to reach the goal of home ownership.
As you consider this major decision here are a 3 questions to ask yourself to determine if the time to buy a house for you is now.
1. Are you on firm financial ground?
Are you completely debt free (credit cards, medical bills, student loans, car loans, etc.)?
Do you have an emergency fund of 3-6 months of expenses (preferably 6 months)?
Are you saving for retirement (15% of your annual household income) and for college expenses?

2. Can you really afford to purchase a home?
Could you make the home purchase with a 15 year mortgage at a fixed interest rate?

Avoid mortgage loans with adjustable interest rates and balloon payments.
Remember, there is a large difference in interest paid between a 15 year loan and a 30 year loan over the life cycle of the mortgage.

Have you saved up for a down payment of between 15% and 20%? With a 20% down payment you will avoid paying for Private Mortgage Insurance (PMI) which protects the lender in case of default on the mortgage.
Will your monthly mortgage payment (taxes and insurance included) be equal or less than 25% (or 1/4) of your monthly take home pay? A mortgage payment that takes too much of your monthly take home pay will put a lot of strain on your budget.
If you want additional guidance on the process of getting a mortgage, this article from The Simple Dollar is a great resource.
3. What are your purchasing goals?
Have you made your list of "must have" elements vs. those which are "nice to have"? For example:

Do you need 4 bedrooms or could you be all right with 3?
What about bathrooms: is it 2 or 2.5?
What is more important to you: size or location?
What about the quality of the school district?
Make a list and evaluate the potential houses against that list.

Do you have to buy the first one you see?

Take your time when looking and guard against "house fever".
For my first home purchase in 1996, I looked at around 25 houses.
For our second home purchase, my wife and I looked at 20 different homes.
There is no need to rush the decision on this investment which will be one of our largest purchases of your life.

Who is helping you?

It is a very big decision so you should seek professional help.
Secure the services of a good realtor that knows the area and has sold many houses and helped many buyers.
Interview 2 or 3 before you make the selection.
"Prepare your work outside; get everything ready for yourself in the field, and after that build your house."
Proverbs 24:27 (ESV)
Please follow and like us:
This post is also available in: Spanish