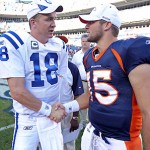 If you are a fan of the NFL, you surely are aware of the news of Peyton Manning signing as a free agent with the Denver Broncos. Peyton of course had been released by his former team, the Indianapolis Colts. Peyton's arrival in Denver most likely indicates the departure of current Broncos' QB Tim Tebow. There is plenty of sports analysis out there already (you can see Rick Reilly's entertaining take here) so I won't give you mine.
However, I think there are some lessons we can learn from this Manning-Tebow situation with regard to our management of finances. You see, your income is your most powerful tool to build wealth and you need to be prepared for managing the changes that come your way with regard to your work. Remember that:
Job security is a myth. Peyton was was the franchise QB for the Colts for 14 years and he performed greatly for them. However, the owners made a business decision in going with a younger QB once Peyton's health was in question. The Broncos had not won a playoff game in 6 years until Tim Tebow led them there last season. However, the prospect of landing someone they thought would help them more, made Tim expendable. If you work for someone, you are there until is mutually convenient for you and for your employer. If you work for yourself, your income is based on what the market will bear for your goods and/or services. Your job security is  based on what value you bring to your clients.
Things can change very quickly. Until his injury last year, Peyton never thought about finishing his career with any other team but the Colts. 10 days ago Tim Tebow was preparing for his next season as the Broncos' starting QB. Now he knows he is most likely to be traded. Not only is he dealing with disappointment but also with uncertainty.  Business conditions and health situations can change your work situation in a hurry.
When change happens, you have to take control. In your career or your business, you must be in charge. Peyton's free agent tour lasted between 7-10 days. He knew his value, he knew what was important to him (opportunity to win, the overall environment). He knew his days in Indianapolis were numbered so he took control of the situation and decided which teams were the best options and he made a decision quickly. I am sure Tim will make similar choices and perhaps will take a cue or two from Peyton's approach. You have to take control of your career: continue learning, study the market and see where the business is going. Understand your strengths and your weaknesses. Don't let things happen to you, assume control.
"Inaction breeds doubt and fear. Action breeds confidence and courage. If you want to conquer fear, do not sit home and think about it. Go out and get busy."
Dale Carnegie
Presione aquí para la versión de este artículo en Español.
Please follow and like us: