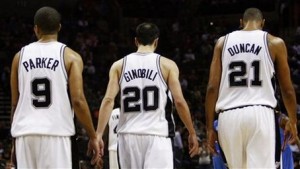 If you are regular reader of this blog, you know that I am a big sports fan. Baseball is my first love (go Rangers!), but I also greatly enjoy watching basketball.
Right now the NBA is in the midst of their playoffs and there is one team that stands tall above the rest: the San Antonio Spurs.
The Spurs have won their first 7 playoff games and are a great candidate to win their 5th championship. What's interesting about the Spurs is that while they had the best regular season record and are undefeated in the post season, they don't get a lot of attention from the media.
The reason is that they are considered "old" (some of their key players are supposedly past their prime) and "boring" (they are not making many YouTube videos about their flashy dunks).
However, they consistently win and are consistently a threat to capture the title.
When I think of this San Antonio Spurs team, it reminds me that when it comes to winning with money, usually old fashioned and boring also works very well. So, here are the 4 financial lessons from the "old" and "boring" Spurs:
Keep it very basic. Basketball is a game of fundamentals: make the extra pass to find the open shooter, get back on defense and prevent a fast break, challenge every shot, don't turn the ball over, get the rebound. If you do these things well, chances are you will win games. With money, there are also basic principles that always work: live on less than you make, get on a budget, save for a rainy day, get out of debt and stay out of debt, have a plan for the future.
Stick to the plan. One of the reasons the Spurs win is that they have a plan for every game and every opponent and they execute that plan. As Zig Ziglar might say, their spectacular preparation, leads to spectacular performance. You too need to have a plan for your money; you need to prepare and execute on the plan.
Don't panic in a crisis. In Saturday's game against the Clippers, they were down by 24 points after the 1st quarter. Most teams would have folded and started thinking about the next game. Not the Spurs. They simply kept playing and kept doing what their game plan dictated. No panic, no frustration. They, of course, came all the way back and won by 10. Chances are you will hit a few speed bumps when you decide to get control of your money. Don't panic and give up, keep plugging along.
Work as a team. The Spurs have 3 future Hall of Fame players and a great head coach. However, when they speak about their success, they focus on the team. Everyone has a role and they understand it. With your money you need a team approach as well. If you are married, you and your spouse must work together. If you are single, you need some people who love you well around you to help you along the way.
One last thing: the Spurs do not care about their lack of attention or the criticism. They just go about their business because they know that their approach works.
When you look at your financial plan, if you are doing wise things with money, stick with it. Don't listen to the critics.
I would take "old fashioned" and "boring" but winning, over flashy or fancy but broke and deeply in debt.
"The plans of the diligent lead surely to abundance, but everyone who is hasty comes only to poverty."
Proverbs 21:5 (ESV)
Presione aquí para la versión de este artículo en Español.
Please follow and like us: