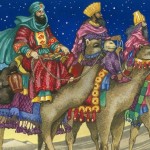 I hope you had a great Christmas Day celebration with your family. For many people, the only thing left of the Holiday season is the New Year celebration. However, if you grew up in Puerto Rico, you know that our Christmas celebration goes all the way to January 6 (at least) when we celebrate Three Kings Day.
On this day, children receive gifts left by the Wise Men which commemorates the gifts the Magi brought to Jesus when they came to worship Him (see Matthew 2:1-12). In addition, there is the tradition of the "Octavitas" which could take the celebration all the way to January 16. So if you love to party, you might consider celebrating Christmas on the Island of Puerto Rico next time.
There is another way in which the Christmas season could be extended for you. If you used credit cards to buy gifts or for other expenses, you could be paying interest on those purchases for a few more months. If statistics are right, not only did you spend more, you might still be paying for those expenses come May.
If the 2012 Christmas season will be an extended one for you, resolve now to pay cash for all of your Christmas expenses in 2013. Christmas is scheduled again for December 25 so it should not be a surprise to anyone. Start planning now:
Determine how much you want to spend in gifts, decorations, entertainment, etc. Divide that amount by 12. This is the monthly amount that should go into your Christmas "sinking fund".
Ensure your monthly budget includes a line item for the "Christmas Fund". You should already be working on your January budget, so you have time to make the adjustment.
Stick to the plan!
In 2013, you could have a Christmas celebration without any regrets and without any bills that follow you into the new year. But as it always has been, it is up to you. If you need help, I am here for you. I pray you have a very prosperous and peaceful 2013.
"For which one of you, when he wants to build a tower, does not first sit down and calculate the cost to see if he has enough to complete it?
Otherwise, when he has laid a foundation and is not able to finish, all who observe it begin to ridicule him,"
Luke 14:28-29 (NASB)
Presione aquí para la versión de este artículo en Español.
Please follow and like us: