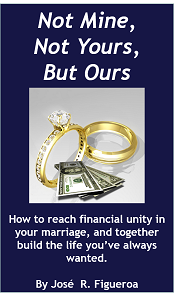 Greetings everyone! I am very thankful, excited and pleased to announce that my new e-book is now available for the Kindle @ Amazon.
The book is entitled "Not Mine, Not Yours, But Ours". In this book I show you how to reach financial unity in your marriage, and together build the life you've always wanted.
I want you to win with money and with your marriage. So as a special introductory offer, the e-book will be available for free on August 5 & 6. Get it tomorrow and let me know what you think by leaving a review.
Please follow and like us:
This post is also available in: Spanish