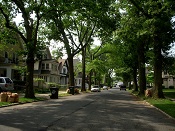 Subscribe to future posts from Figueroa Financial by e-mail
"We are not cisterns made for hoarding, we are channels made for sharing."
Billy Graham
Today I conclude my short series on what happens after you get out of debt.
If you recall, I view financial wellness as a journey in three stages that are analogous to the building of a home: laying down a firm foundation, building up your financial household, and letting the trees grow.
Last week I talked about how you build up your financial household by the wise use of savings and risk management. This week we will focus on the last stage of our financial journey: letting the trees grow.
If you drive through an old, well-established neighborhood, you will notice that the trees are tall and strong. These trees provide beauty, shade, and a place for children to climb and play. They also can be great gathering spot for friends and neighbors.
The benefits provided by those trees are not limited to where they are planted. Similarly, as you progress in your financial journey you can begin to be a blessing to others outside your immediate household.
But remember that giving should not be ignored in the first two stages. It's simply that after you have paid off your debts, built your emergency fund, and addressed retirement and college savings you are in a very strong position financially.
Now you can give extravagantly. That's the real purpose of wealth building.
So where could you start? You can go beyond the inner circle of your immediate family to extended family/friends and charitable organizations.
Extended Family & Friends
There is a couple of ways you could share your blessings with friends and extended family.
First, perhaps they are in need of learning the lessons you have learned to win with money. It is quite possible that as you share your winning story with them, they will ask for your advice. Be gentle and kind. We all have made mistakes with money.
Second, there might be a time where you actually can help financially. But again, be careful on how you define help. Make sure you are truly helping and not enabling bad behavior with money, making a bad situation worse.
Charitable Organizations
If you are a person of faith, giving to your church is a great place to start. Perhaps this is the time where you can go beyond the tithe. You could start helping fund mission trips and other ministries of your church through special offerings.
If you are not involved in a church or any other faith organization, you can still be generous. There are plenty of people who need help in this world. Find a cause that's close to your heart and get involved.
Now you can help from a position of strength. Carefully review the goals and operations of the organization you are evaluating and help as much as you can.
So, are you ready to extend blessings you have received with others? There is no better time to start being generous than today.
"The generous will prosper; those who refresh others will themselves be refreshed."
Proverbs 11:25 (NLT)
Question: Who would you like to help with extravagant giving today?
Subscribe to our Monthly Newsletter
Please follow and like us:
This post is also available in: Spanish