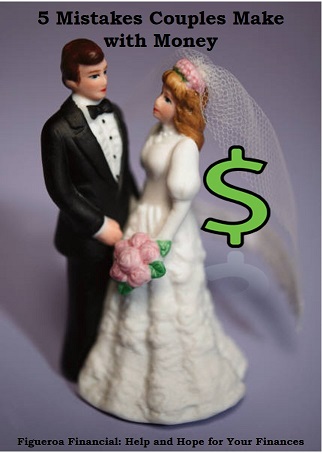 Are you married or are you planning to be married soon? How would you like to avoid the pitfalls couples typically face in money management?
If you are married, the only way to win with your money is to work together with your spouse.
Differences and arguments over the handling of money are one of the leading causes of divorce. Healthy finances lead to healthy marriages.
You can take some steps to ensure you and your spouse have a great financial future. You can avoid these 5 Common Mistakes Couples Make with Money:
1. Your pronouns have not changed
You still have discussions such as "my income" or "your debt". It is very likely that one of you makes more money than the other spouse. It is also quite possible one of you brought more debt to the marriage. That does not matter.
After you say "I do" you should change your pronouns from "my" and "yours" to "we" and "ours". Your sentences should sound like this: "We have debt" and "We have a household income".
If you are not working on your finances as a team you can't expect to win.
2. You have not combined your finances
You are keeping separate savings and checking accounts. This is a reflection of how you view the finances. You may think is wise to "split the bills" so you can do what you like with the rest of "your" income.
The reality is, this is a sign that there is no trust built between you and your spouse when it comes to money.
Unless there is a major issue (such as addictions to drugs/alcohol/gambling), you need to open the books and then combine the books. Put it all on the table.

3. You don't work on a budget together
In order to win with money, you need to live on a budget. In order to win with money as a couple, you need to work on a budget together.
One of you will be more equipped to prepare the budget every month, but both of you must have a voice and a vote on your monthly spending plan.
When you agree on a budget you are agreeing on what happens with your money. It gives you an objective way to handle the finances every month.
4. You don't make major financial decisions together
This situation may arise when one of the spousal partners "feels" they should be able to just buy what they want, when they want without input from the other partner.
The husband may feel entitled to purchasing a brand new car without input from the wife. The wife may feel entitled to spending $2K on a birthday party for the kids without checking with the husband.
In either case, the lines of communication are broken. There is nothing wrong with spending money as long as a) you have the cash to spend and b) you are in agreement with your spouse.
5. You don't have shared goals for the future
What's more important? Paying off the house or saving for retirement? What about saving for the kids' college education? Or what do we teach our kids about money and how do we do it?
If you have not discussed your fears and your goals for the future with each other, now it would be a good time. You need common, shared goals for your money.
You are building a life together; surely you can work on your money and your future together.
In order to win with your money you have to be honest with each other, patient with each other, and you have to work with each other.
There is no other way to win with your finances. If you are not working with each other you are working against each other. You need each other.
Start working together today!
9 Two are better than one because they have a good return for their labor.
10 For if either of them falls, the one will lift up his companion. But woe to the one who falls when there is not another to lift him up.
Ecclesiastes 4:9-10 (NASB)
 Question: What's keeping you from working with your spouse on your finances?

Please follow and like us:
This post is also available in: Spanish