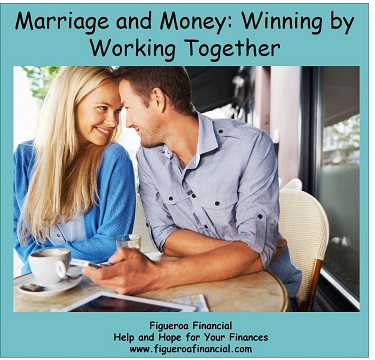 When is the last time you and your spouse completed a major project working together?
My wife and I relocated to DFW just over 3 ½ years ago.
Before doing that we had to sell our previous home and we had some work to do.
Working Together to Sell a Home
And after owning that house for about 14 years, it was time for a few renovation projects: some fresh paint, a little work on the kitchen, replacing some outdated light fixtures, gardening, and general clean-up.
Some of the work we could do ourselves but for some items we wanted professional grade work.

We had lots of work ahead of us, so being a project manager by trade and a detailed oriented "nerd" by birth, I put together a quick spreadsheet with an outline for the schedule and the budget that became the essence of our project plan.
But the real key to the success of this plan was that my wife and I worked together on the project.
We had to agree on how much we were prepared to spend on each item, we had to agree on the timeline for each project.
We also had to make decisions like choosing a paint color or the type of tile for the kitchen backsplash.
We had an objective and we had a plan so we had a common understanding.
After working the plan, the house looked great and it sold in 30 days!

Working Together to Win with Money
Winning with your money also requires having a common understanding between spouses. You can only win by working together.
Regardless of what your income is and how much you may or may not know about managing your finances, you need to have shared goals and dreams.
You also need to have shared responsibility for doing what's required to achieve those goals and dreams.
Since my wife and I started working together on our finances almost 9 years ago, we are winning with our money.
But in addition to that, we have achieved a level of communication and understanding in other areas of our marriage that we did not have before.
Here are just a few examples of items that require both spouses to be in agreement:
Working on your monthly budget. If you can't talk about the day to day, month to month expenses, how will you decide on major purchases?
If you have children, how will you save for their college expenses? What will you teach them about money?
Major purchases. What constitutes a major expense (e.g., more than $300)? If you have more than one purchase you want to make, what's the priority between them? Can you save for Christmas and also for replacing one of your vehicles?
What are your goals for retirement?
Is it time to upgrade and move to a bigger house?
God's wisdom tells us that "Two are better than one because they have a good return for their labor." (Eccl 4:9).
Talk to each other. Determine what those shared dreams and goals are in your life.
Be honest about your fears and. Learn to listen and to trust one another.
Remember that as a married couple, you are supposed to be building a life together. That includes how you handle your money.
You can win with your money by working together. Start today!
Question: What's keeping you and your spouse from working together on your finances?
Please follow and like us:
This post is also available in: Spanish