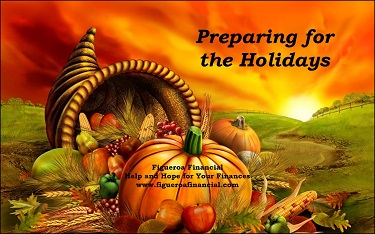 Do you realize that Thanksgiving is less than 2 weeks away?
It seems to me that the holidays are getting here really early this year.
Of course I have already seen a couple of houses in our neighborhood with Christmas decorations, so Christmas seems to be in a hurry to get here early as well.
This is supposed to be a great time of the year but it can also be a time filled with lots of activity and stress.
With so many things to do and so many places to be, your emotions will be running high. It is at times like this where you can can easily get derailed from your financial plan.
How do we stay grounded and focused? How do we really get to enjoy the holidays without breaking our budget?

I think the answer is in having the right attitude in our hearts.
With that in mind, let's prepare for the holidays by focusing on these attitudes over the next few weeks: gratitude, contentment, and generosity.
Gratitude
Think about what and who we have in our lives. Our very next breath is not guaranteed, so every new day is an opportunity to be thankful.
Do we have health and the ability to work? Let's be thankful. Do we have jobs? Let's be thankful.
Do we have friends and family who love us? Let's be thankful. Do we have a roof over our head and food to eat every day? Let's be thankful.
If gratitude fills your heart, it will be harder for it to be filled with grumbling and bitterness.
"in everything give thanks; for this is God's will for you in Christ Jesus."
I Thessalonians 5:18
Contentment
This is the attitude that says "we have enough". We are satisfied regardless of our current state of affairs.
This is a great antidote against greed and against thinking that one more present will be just what we need.
We don't need to overdo it whether it is in celebration or in gifts. If we are honest with ourselves, we already have enough.
"But godliness actually is a means of great gain when accompanied by contentment. For we have brought nothing into the world, so we cannot take anything out of it either."
I Timothy 6:6-7

Generosity
When we have gratitude and contentment, we can turn our attention from ourselves and focus on others. We can always show generosity.
Now, you may not be in a position to give everyone a nice present.
However, you are always in a position to give the people in your life the gift of your presence and the gift of your service. Make that phone call. Send that Christmas card.
Spend time with that friend or family member you have not seen in a while. Volunteer at church to reach those in need during the holidays.
Generosity does not have to be limited by the balance in our bank account.
"The generous man will be prosperous, And he who waters will himself be watered."
Proverbs 11:25
Please follow and like us:
This post is also available in: Spanish