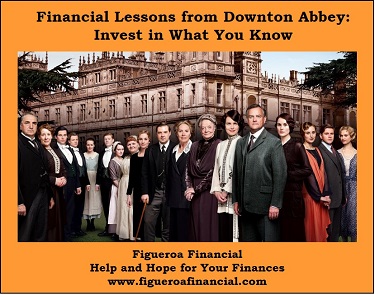 Are you familiar with Downton Abbey? It is a TV series, set  in the fictional Yorkshire country estate of Downton Abbey, and it depicts the lives of the aristocratic Crawley family and their servants in the early 20th century, with the great events in history having an effect on their lives and on the British social hierarchy.
My wife and I have been hooked on it since we started watching it a few years back (it's now in its 5th season). It is filled with great acting and great story lines.

When the series starts, the servants seemed to be resigned to just being servants forever. But as time passes and British society is changing, some of them begin to think of different possibilities.
The Situation: Investing for the Future
In a recent episode, the topic of investing for the future came up. The head cook in the Abbey, Mrs. Patmore, receives an inheritance from a distant relative.
She wants some advice on how to put that windfall to work for her future. She asks Mr. Carson, the butler who is in charge of the entire service for the house.
As such, he is the overseer of all the servants and everyone looks up to him with respect.
Mr. Carson agrees to offer her some advice about investing. However, his information only comes from a brief conversation with Lord Grantham, the head of the family.
The family has been considering some renovations in the estate and he mentions a particular building company to Mr. Carson. Mr. Carson does not ask many questions about it, but he thinks he has enough to go back to Mrs. Patmore.
He tells her that investing in a building company would it be a good place for her money. But, as she asks questions, it is obvious Mr. Carson does not know much more of what he heard. He can't even tell her if the company has gone public and it is open for investing.
Mrs. Patmore is not too comfortable with Mr. Carson's advice. She eventually figures out a different option for her investing.
She decides to purchase a property that she could rent now, and then later it could serve both as a retirement home and also as a guest house which could generate some income.
When she conveys her decision to Mr. Carson, he is a bit disappointed that his advice is not taken to the letter. He says this option is just "very small beer".
However, Mrs. Patmore explains that she is thankful for the advice. But she has to invest in something she understands. The way she puts it I think is brilliant: "It's my kind of beer and I know how to drink it."

The Lesson: Invest in What You Know
There are some great lessons we can learn from Mrs. Patmore and her investment decision.
First, it is good to think and plan for the future. Mrs. Patmore was thinking ahead to the day she would no longer work at the Abbey.
You may be just concerned with the day to day operations of your household, but planning for the future should always be part of your financial plan.
Second, when it is time to invest your money, asking for advice it is always a good thing. Mrs. Patmore looked for advice from Mr. Carson, someone she respected.
Ask for advice from trusted friends and professionals and gather as much information as you can.
Third, invest only in what you understand. Mrs. Patmore understood food service and lodging, so she was comfortable in dealing with that and not with investing in the market directly.
You need to invest, not because someone on TV said so or because some family member told you about it.
You need to understand the investment vehicle well enough, so you can explain it to someone.
Of course, learning more about that particular type of investing is always an option so you can invest in it later. So maybe it is not right for you today, but down the road once you know more it could be an option for you.
Finally, and perhaps more important than anything. It is your money so it is your decision. Mr. Carson was not too happy with Mrs. Patmore's decision.
But here is the thing: It was her money and not his money.
As you gather information and ponder your options, not everyone is going to agree. But you are in control of your financial destiny.
So have the courage to make your own decisions. At the end of the day, we are talking about your financial destiny.
Cast your bread on the surface of the waters, for you will find it after many days.
2 Divide your portion to seven, or even to eight, for you do not know what misfortune may occur on the earth.
Ecclesiastes 11:1-2
Please follow and like us:
This post is also available in: Spanish