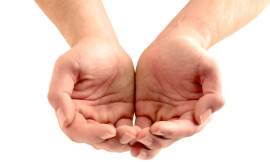 Probably my favorite time of the year is around Thanksgiving and Christmas. I really look forward to some time off, visiting with family, football, and of course great food! Thinking about all of that has always helped me finish strong.
Next week, after the great Thanksgiving celebration on Thursday, many of us will rush to the mall on Black Friday (to get the deals that will not be available on any other day) or some of us will jump on the great deals on Cyber Monday. This is also the season where many churches and charities focus on food drives and toy drives to help those in need. It is all part of the celebration and the traditions for this time of the year. You will be pulled in many directions as you consider how to allocate your hard earned dollars during this season.
So I wanted to give you some help going into this wonderful season. Let's talk about your position for giving and then your motivation for giving. Let me know what you think!
Are you in a position to Give?
First of all, let me say that structured, on purpose giving should always be part of your financial plan. We are designed to be givers. Jesus said "It is more blessed to to give than to receive." (Acts 20:35). If you are like me, the joy of giving is in finding that special gift for that special someone and seeing their expression of joy and thanksgiving. There is also the great joy and satisfaction of having the ability to help someone in great need. So of course we should all be givers!!!
But are you prepared to give? Here are 3 basic questions to ask yourself to determine if you are in a position to give like you would like:
Are you living on a budget and on less than you make or do you find yourself with more month at the end of the money?
Do you have money saved for emergencies or are you relying on a credit card or line of credit as your rainy day fund?
Are you drowning in consumer debt or are you free of the shackles?
The answer to those 3 questions will determine if you are in the best position to be a giver this season.
One more thing: Do you have a plan for this year's holiday spending? Recent statistics show that 40% of people said that credit card debt is the biggest worry going into 2011 & only 15% said they can use cash to pay for holiday shopping according to a FICO Survey. Plus…a Consumer Reports poll found that about 13.6 million Americans remain saddled with last years' leftover holiday debt! (Source: Dave Ramsey)
Don't let the 2010 holiday season follow you into next year. Trust me: Your family and friends are more interested in seeing you and spending time with you that on getting another gift. Prepare a budget that will have a list of persons that will receive a gift and assign an amount per person. Also include in your budget any other out of the ordinary holiday expenses. And then, in January you can start a "sinking fund" for next year's Christmas. Let's say you want to spend $1,200 next December. That means as part of your monthly budget you need to allocate $100 in your budget each month.
Why should you Give?
So now you have an approach to structure your giving but maybe you are asking, "why should I?" I would like to give you my motivation for giving. These come from my Christian worldview and from my personal experience.
God is the Owner: I understand that I am an asset manager for God and that He owns it all (Psalm 24:1). He does not "need" my money. Plus, I will give an account to Him on the sum of my life and finances are just a part of the account (2 Corinthians 5:9-10). So giving is really a matter of

obedience

.

God is the Provider:

Everything comes from God. One of the great preachers and Bible teachers of our generation, Dr. David Jeremiah has put it best: "

God is a God of grace. His grace provides strength to earn, generosity to give, and humility to receive.

". So giving is really a matter of thanksgiving.

God is the Example:

He gave the ultimate gift by giving His Son as the Savior of the whole world (I John 4:9-10). Giving makes us more like God and Christ. They are givers. As we grow into the likeness of Christ, we should grow in the aspect of giving as we seek to be like Him (Romans 8:29). So giving is really a matter of spiritual maturity.
"God is the great giver. The great provider. The fount of every blessing. Absolutely generous and utterly dependable. The resounding and recurring message of Scripture is clear: God owns it all. God shares it all. Trust him, not stuff!"
Max Lucado (Fearless)
Please follow and like us: