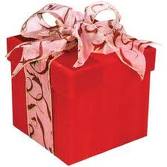 One of the traditions my wife and I have is that we set aside one day during the Christmas season to get  all of our Christmas shopping done. We go during the week, just before school ends, so we don't have to deal with the crowds or the rush of just before Christmas. We spend the entire day shopping for those on our list and as a bonus we get to spend great quality time together.
As I looked over our list, it made me think about some real valuable gifts you can give yourself and your family for the new year. These are not gifts you would find on Amazon.com or at the mall but they can be the kind of gift that will make a great difference for your family for years to come. So, as you work on what to get for everyone on your list, consider these gift ideas:
A Written Plan for Your Money:

Will this be the year that you will start living on a budget? Will this be the year that you will learn to have a game plan so you control your money instead of your money controlling you?
A Fully Funded Emergency Fund: Will this be the year that you make savings a priority so you can deal with the unexpected expenses that are sure to come in the new year without going into debt? A fully funded emergency fund will cover 3 to 6

months

of household expenses.
Life Insurance: Will this be the year that you will address the issue of having proper life insurance? Too many Americans live without life insurance and they put their families at risk. You need coverage of 

8 to 10 times of your annual income

. The best option is Term Life Insurance and it is extremely affordable.
A Will: Will this be the year that you and your spouse sit down and do a written will? Having a will would give those around you the instructions on what to do with your assets in the case of your passing. In the midst of the grief of losing you, think about how it would help not having the burden of trying to figure out what to do with your stuff. There are very easy and affordable options to prepare a state specific will.
All of these gifts have one thing in common: they will bring peace to your life by bringing control to your finances. These are the kinds of gifts that will demonstrate how much you care for your family. If you need help, I can counsel you through each of these steps. Do not let another year pass by without taking care of these components of your financial plan.
May your Christmas be filled with the perfect peace that can only come from the Prince of Peace!
11 For unto you is born this day in the city of David a Savior, who is Christ the Lord.
12 And this will be a sign for you: you will find a baby wrapped in swaddling cloths and lying in a manger."
13 And suddenly there was with the angel a multitude of the heavenly host praising God and  saying,
14 "Glory to God in the highest, and on earth peace among those with whom he is pleased!"
Luke 2:11-14 (ESV)
Please follow and like us: