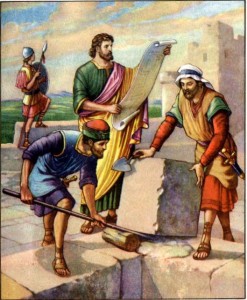 You might be familiar with the biblical story of Nehemiah. Nehemiah was an exiled Jew who served as the cup bearer for the Persian King Artaxerxes. Nehemiah learned of the difficult situation of the Jews who had returned to Jerusalem from captivity.
The city was devastated and the walls were torn down. In the first chapter of the book of Nehemiah their situation is summarized as follows: "The remnant there in the province who survived the captivity are in great distress and reproach, and the wall of Jerusalem is broken down and its gates are burned with fire.".
Nehemiah was moved to prayer, fasting, and action for his people. Shortly thereafter he led a project in Jerusalem that re-built the walls in 52 days! This project was a great testimony of God's faithfulness for His chosen people. I can imagine the new walls gave them a sense of security and comfort.
When you think about your finances, you might be in a difficult situation. Your income might be limited due to a job loss or an illness and you might have too many obligations to cover each month. In my last post I covered the mechanics of creating a monthly spending plan/budget.
What I would like to do today is help you with deciding on the priorities for that budget. In essence, you need to make sure the four walls of your financial household are built up. Here are these Four Walls:
1. Food
You need to make sure that you and your family have enough to eat. Of course, if you have a limited income and too many obligations, you should consider really cutting back on eating out. But groceries to feed your family should be first on your list.
2. Shelter
This includes your mortgage or rent payment as well as utilities. You need to ensure you are current with your monthly payments for your residence. This payment comes before any credit card payments for example.
It is more important for you to be current with your mortgage company or landlord. The same priority applies to your utilities: electricity, gas, water, and basic phone service. I stress "basic phone" service and not a cell phone plan that it is too expensive for your current situation.
3. Transportation
You need to make sure you have your transportation needs covered so you can get to and from work. If you have a car payment, you need to be sure you stay current.
In your budget, you should also account for fuel, insurance, and basic maintenance expenses (like a regular oil check).
4. Clothing
We are talking about basic clothing needs for you and your family. If you have children, you know they are growing fast. You and your spouse might have the need also to upgrade your wardrobe but it should be consistent with your current levels of income.
Think about this: If your family is fed, if the roof over their heads is safe, if you have the ability to get where you need to get every day, and you have clothes to wear, how would you feel? You would have a sense of security. Money might still be tight but you can live to fight another day because the fundamental needs are covered.
With the remaining income, you can finish a beginner's emergency fund and you can attack your debt. With the four walls secure, you can concentrate on possibly increasing your income by working extra or taking a 2nd job temporarily.
Nehemiah led his people in a project of restoration that gave them a sense of security and pride. When you decide to protect the four walls for your family you can do the same.
"But if anyone does not provide for his own, and especially for those of his household, he has denied the faith and is worse than an unbeliever."
I Timothy 5:8 (NASB)
Please follow and like us: