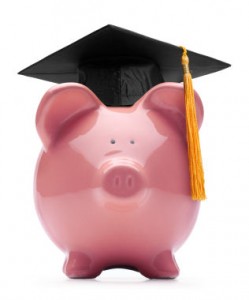 Over the next two weeks we will turn our attention to the subject of saving money for long term goals. As you get your finances under control (living on a budget, paying-off consumer debt, having a full emergency fund), you also need to start paying attention to the future.
Two of the most critical areas for long term savings are retirement and college expenses. We will focus on savings for college expenses this week and next week we will focus on retirement.
As parents, we are compelled to take care of our kids in every possible way. For most of us, that includes covering the expenses of a college education. Education is critical to success in the market place and typically college graduates tend to have more options for employment.
So the question is not: should you pay for your children's college costs; the question is how to best accomplish that goal without putting your future or the future of your kids in jeopardy.
Unfortunately, like with everything else around finances, the lack of preparation leads us to believe that there is only one way to pay for college: by using debt in the form student loan.
Let me share some statistics with you that will help us put the consequences of this belief in perspective:
The price for room and board at schools has doubled since 1982 and tuition has gone up 439% in the same period.
Outstanding college loans now total over $1 trillion, an amount that recently exceeded the amount of credit card debt in the US.
Student loan debt has increased 511% since 1999. Students now graduate with an average debt of $24K, an amount that has grown over

50%

in the past decade.
More than

45%

of students do not graduate so they are left with the debt and no degree to show for it.
Since 2008, 85% of college graduates have been moving back in with parents after they graduate.
In addition to these staggering numbers, there are larger implications of getting deep in student loan debt. This type of debt can not be eliminated through bankruptcy. The decision to go in debt at 18 can follow you for years to come.
You know what else happens to you when you have a large amount of student loan debt? You lose career options. You need to stay employed at any job you can get so you can make those payments. If you think a better option is for parents to take out student loans on behalf of their children, that simply transfers the risk to the parents.
They might be in a better position to pay the debt back, but the debt could hamper their ability to save for retirement and achieve other financial goals. Certainly, there has to be a better way than debt and that is through savings.
The best option for college savings is the Education Savings Account (ESA) also known as the "Education IRA".
You can save up to $2,000 per year per child and get this: it grows tax free!!!!

Above the ESA, you can use

529

type plans. Focus on those that leave you in control of the funds.

Morningstar

has done the research on the

best and worst

of these 529 plans.

This article

looks at the 10 least and most expensive of the options.

After this, you can move to an UTMA/UGMA plan. This stands for "Uniform Transfer/Gift to Minors Act".  The account is listed in the child's name and a custodian is named (parent or grandparent). The custodian is the manager of the account until the child turns 21. At age 21 (Age 18 for UGMA), control of the account goes to the child.
The great Zig Ziglar has said that "If you do the things you need to do when you need to do them, then someday you can do the things you want to do when you want to do them."
In our topic today this means that you have to start saving now so you can prepare for the day when you need to cover those college expenses.
Already started? Great for you and keep going! Not started yet? Don't delay any longer, the time is now. Start today!!!
"No discipline seems pleasant at the time, but painful. Later on however, it produces a harvest of righteousness and peace for those who have been trained by it."
Hebrews 12:11 (NIV)
Please follow and like us: