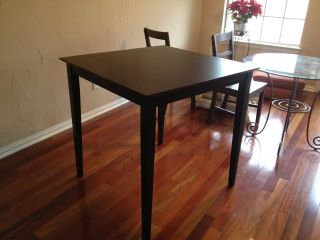 As you know, part of what I try to do with my posts is to give you information on how to improve your finances. One key ingredient of the winning formula for your finances is being on the same page with your spouse. You cannot prosper if you are not working together with shared goals and plans. Today I get to boast on my wife Stacey. We have been in our house for about a year now, and there are some items we have been planning to buy to finish furnishing the new house. We have been discussing our options for a few weeks now.
One of those items is a bar table for our breakfast area. Yesterday Stacey found us a deal on a table by simply looking for a deal and asking questions. She was able to secure the table for us with a 70% discount!!! It was the "as is" special, the one in the show room and it looks great. We love the new table and we will continue to look for a deal on the chairs too!
Part of winning with your money is managing the money you already have. So take a couple of extra minutes, and look for the deal, ask for the deal on something you need. What's the worst that can happen? They might say no and you move on. But then again, they might say yes. Happy deal hunting!
Presione aquí para la versión de este artículo en Español
Please follow and like us: