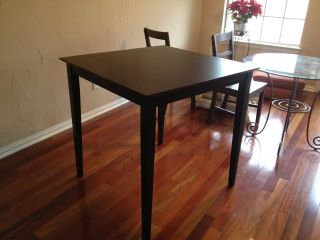 Como ya saben, lo que trato de hacer con mis artículos es ofrecerles información para mejorar su estado financiero. En la formula ganadora para tu dinero hay un ingrediente muy importante: tienes que estar trabajando en unísono con tu esposo o esposa. No vas a poder prosperar sino están trabajando unidos en sus metas y sus planes.
Hoy me toca celebrar a mi esposa Stacey. Estamos a punto de cumplir un año en nuestra nueva casa y hemos estado hablando acerca de comprar un par de artículos para terminar de amueblarla.
Uno de esos artículos era una mesa para el área de desayuno. Ayer Stacey se encontró una súper ganga, simplemente mirando y haciendo preguntas. Logro comprar la mesa con ¡70% de descuento!!! Era el especial de "así como esta", la mesa que estaba de muestra en la tienda. ¡Nos encanta la nueva mesa y vamos a seguir buscando gangas para las sillas también!
Para ganar con tu dinero, tienes que también manejar bien lo que ya tienes. Así que tómate un par de minutos más y busca el especial, pregunta por el especial en algo que necesites. ¿Que es lo peor que puede pasar? A lo mejor te dicen que no y sigues caminando. Pero es posible que te digan que si. ¡Mucho éxito buscando las gangas!
Click here for the version of this post in English.
Please follow and like us: