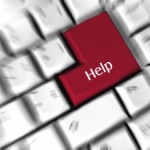 Today, Financial Literacy month comes to an end. For the first time, I joined with other personal finance bloggers in recording a series of videos on financial topics. I hope you have enjoyed them but more importantly, I hope they have been useful to you or someone you know.
However, it seems we have a lot more work ahead of us. A recent USA Today article indicates that: "the Treasury Department and Department of Education have teamed the past three years to assess financial literacy in U.S. high schools, and the results haven't been pretty: the average score of almost 76,900 students in 2010 was 70%. Last year's testing of about 84,000 students and this year's of about 80,000 students were both a point lower: 69%." The article also indicates that our young adults (20-29 years old) also struggle with financial knowledge.
I firmly believe everyone is capable being successful with their finances and sometimes it is just a matter of getting a little help. In our culture we are very used to getting help from a personal trainer to help us get on a good exercise program or getting help from a nutritionist to optimize our diet. Could you use some outside help with your finances?
A financial coach/counselor can help you in the following ways:
Help you understand your current financial situation.
Provide you specific recommendations for making the necessary changes in managing your finances.
Inject hope into your particular situation.
Provide excellent services with the utmost confidentiality.
As a financial coach, I will always offer you information and education built on biblical principles for managing finances. If you need help getting on a budget, building an emergency reserve, or breaking out of the slavery of consumer debt, contact me today. We offer a 30-minute no-cost, no-obligation consultation.
If you are struggling with finances I know how you feel because I have been there. I know what it is to feel lost and without hope, thinking there is nowhere to go. However, with God's grace and lots of help, I learned how to gain control of my finances. There is a way to win with your money and I can show you that way. There is always Help and Hope for Your Finances.
"Without consultation, plans are frustrated, But with many counselors they succeed."
Proverbs 15:22 (NASB)
Presione aquí para la versión de este artículo en Español.
Please follow and like us: