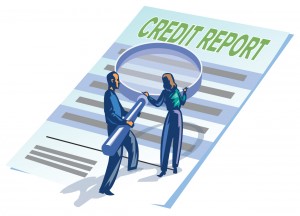 Have you checked your credit report lately? I suggest you should do so at your earliest convenience.
According to the Federal Trade Commission (FTC):
"A credit report includes information on where you live, how you pay your bills, and whether you've been sued, arrested, or filed for bankruptcy.
Nationwide consumer reporting companies sell the information in your report to creditors, insurers, employers, and other businesses that use it to evaluate your applications for credit, insurance, employment, or renting a home."
The Fair Credit Reporting Act (FCRA) requires each of the nationwide consumer reporting companies — Equifax, Experian, and TransUnion — to provide you with a free copy of your credit report, at your request, once every 12 months.
This really means that you could get 3 reports (one from each agency) within a calendar year. Keep in mind that the free report will not include your FICO score. You could request the score with the report, but you have to pay for it.
This is a step I have been taking for the past few years and I have not had any issues with inaccurate reporting. However, in the last year, I could not get an online copy of the report from one of the agencies.
That should have raised a red flag and should have caused me to ask for a written copy via regular mail from the reporting agency.
However, I did not do that, choosing instead to rely on the reports from the two other agencies. Recently we had started the process for a mortgage refinance to take advantage of the very low rates available at this time.
One of the first steps a mortgage lender or broker will take is to run a credit report from each of the consumer reporting companies. This step will give them your credit score and also flag any negative information in your report.
In my case, 2 of the 3 reports came back with no issues. My credit history was reported as it really was.
Unfortunately the third report included several inaccurate entries which put a hold on the underwriting process for the refinance. That was the report from the agency which I could not get online.
Once I requested the actual report via mail, I found more than 20 inaccurate entries which did not belong to me and of course they were all negative entries.
So what are the lessons learned from this experience?
Take the time to request a copy of your credit report. You can order your free annual credit report online at annualcreditreport.com, by calling 1-877-322-8228, or by completing the Annual Credit Report Request Form and mailing it to:

Annual Credit Report Request Service
P.O. Box 105281
Atlanta, GA 30348-5281

Get a report from each one of the agencies.

They are supposed to cover the same information but there can be differences.
In some cases entries in one report will not show up on the other reports.

In case you cannot get a copy of your report from the online website, proceed with the phone call or complete the form to request via  mail.

Just make sure you get your hands on that report.
If I had done this, I would have taken the steps to correct the problem before starting the mortgage refinance.

Review your report for any inaccurate entries.

Keep in mind that only entries that are inaccurate can be removed from the report.
Don't fall for scams that promise to "clean-up your credit".

If you find any inaccurate entries, contact the appropriate credit reporting agency.

Send a letter via

certified mail, return receipt requested detailing the inaccuracies

.
Consumer reporting agencies must correct or delete inaccurate, incomplete, or unverifiable information.
Inaccurate, incomplete or unverifiable information must be removed or corrected, usually within 30 days.
Additional information can be found at the FTC website.
A key element in your battle to win with money is to pay attention to all the elements of your financial picture.
While I do not advocate using credit to build your FICO score, I do want to make sure you take the necessary steps to maintain a clean financial reputation.
!Take the time and do it today!
Presione aquí para la versión de este artículo en Español.
Please follow and like us: