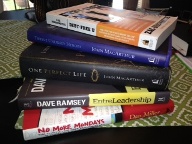 Subscribe to future posts from Figueroa Financial by e-mail
I am looking forward to the Summer for many reasons. One of them is that I expect to have a little more time to catch-up on my reading.
Reading and learning is essential for personal growth. Here are the books that I have on my list. What's on your summer reading list?
Subscribe to our Monthly Newsletter
Please follow and like us: