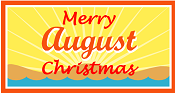 Subscribe to future posts from Figueroa Financial by e-mail
My wife has been serving as an interim pianist for a local church, and this past weekend they started their rehearsing with Christmas music. They had the room decorated with Christmas nativities and someone even baked Christmas cookies.
No, they have not moved the celebration from December to August while you and I were not paying attention. But in terms of how soon it will get here they might as well have. We are talking about only 4 short months. So the choir and orchestra at that church have started their preparation now.
If we are not careful, Christmas can become a high spending season. We can easily get caught unprepared and fall into the normal habit of using debt for the seasonal expenses.
If you are normal and are planning to use credit cards for gifts and other seasonal expenses, you could be paying interest for many months. Statistics show that if you use credit cards, not only you will spend more money, you will still be paying for those expenses come May of 2014 with the added interest.
However, you and I still have time to prepare for Christmas and avoid making it an extended, long season.
Do yourself a favor and start preparing for Christmas now by taking these 3 steps:
Decide on a budget amount for Christmas expenses. You will want to cover expenses such as travel (if you are going to visit family), decorations, entertainment, and of course gifts (make a list of everyone who would receive a present from you).
Build a sinking fund by putting a line in your budget for a "Christmas Fund" and saving the monthly amount required to meet your target. For example, if you are planning to spend $1,000 you have 4 months to save (including August). That means you need to save $250 /

month

.
When December comes along, spend only accordingly to what you save and what is in your budget. Don't rely on debt to get you through the season.
We have been saving for our Christmas fund but we have to pick-up the pace to save according to what we would like to do this season. So we have started making the adjustments now by cutting back in our dining out budget. This will enable us to save put more money in our Christmas fund.
I hope you can have a joyous Christmas celebration without regrets and without bills that follow you into the New Year. Get ready now!
What other tips you have for saving for Christmas expenses?
Subscribe to our Monthly Newsletter
Please follow and like us:
This post is also available in: Spanish