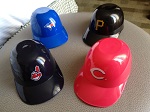 Subscribe to future posts from Figueroa Financial by e-mail 
I just returned from a great vacation with my wife. We are both great baseball fans and for the second year in a row, we went on a Baseball Tour.
The road trip included 6 games in 7 days including stops in Cincinnati, Cleveland, Toronto, Pittsburgh, Detroit and St. Louis.
We truly had a great time the trip ranks right at the top of our list for a vacation. My wife is already thinking about what cities will be part of Baseball Tour 2014!
We came home with lots of souvenirs and pictures and many memories. But you know something we did not bring home? Credit card bills. That's right, this vacation did not follow us home.
We have made a commitment to a debt-free lifestyle, which includes how we have our fun. Taking a vacation is a great thing and you should do it. But don't go and plan a vacation thinking about relying on credit cards to make it happen.
Instead, spend some time planning your vacation. Based on where you want to go and what you want to do, come up with a vacation budget. Typical items may include air fare, lodging, car rental, gas, event tickets, tolls & parking, souvenirs, and food.
Then, start saving for your vacation. Add a line item to your budget for a vacation sinking fund to make sure you are saving with a purpose.
I hope you enjoy your next vacation and I truly hope you have the best kind of vacation: a debt-free vacation.
When are you planning to take your next vacation?
Subscribe to our Monthly Newsletter
Please follow and like us:
This post is also available in: Spanish