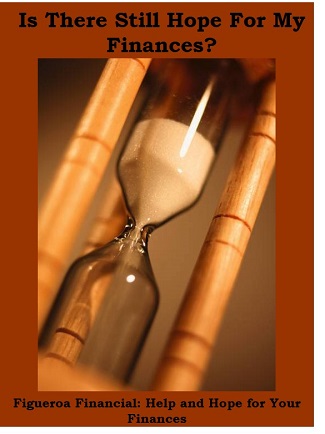 A 2014 study by Fidelity indicates that 54% of Americans made New Year financial resolutions.
Of those who made resolutions, 39% indicated that these type of resolutions are easier to keep compared to other resolutions like exercising more or quit smoking.
Well, it's almost the end of January.
If you made any New Year resolutions for your money, how are you coming along? If you are on track, congratulations!!!

But if you are struggling with your resolutions, you might be asking yourself: is there still hope for my finances?
The short answer is yes. Regardless of where you are today, there is still hope for you.
So, what can you do to improve your financial situation?
Think Big
In order to achieve a great goal, you need to have a great reason for doing the hard work of getting there. If you are in financial trouble, what's your motivation to get out of the hole?
Here are some examples of big picture thinking:
Retire w/Dignity: Do you want to be able to leave work/retire on your terms or are you resigned to having to work forever? Would you like to move into your golden years without a mortgage on your home?
Build Wealth: Would you like to invest more? You can't do it if all of your money is going to debt payments.
Give Generously: We all want to be able to help those in need, but the weak can't help the weak. When we are deeply in debt and we don't have any savings, we are living to survive. But, when we have money, we can invest in others. Money: it's not everything in this world, but it can do a lot of good.
Leave a Legacy: What if you learned to manage your money so you were able to save for your kids' college expenses? What if they never go into debt because you taught them that the borrower is slave to the lender?
What's your motivation?
Take Small Steps
When we get into any kind of trouble, it never happens overnight. It's a series of decisions taken one day at a time.
Well, getting out of financial mess will take some time and sacrifice. But you can take small steps towards your financial victory.
Here are some free resources that can help you take a small step today.
Simple Budget Template. I have used this form for over 8 years now to manage my household budget every month. Just in time for your February budget.
Debt Snowball Template. This is the method we used to pay almost $50K in consumer debt. It took us 29.5 months, but we got it done. One debt at a time.
7 Principles for Financial Success (e-book). My lessons learned in the journey to financial success. It's free for the Kindle on January 30-31.
What small step could you take today?
Call the Coach
It might be time for you to get some assistance for your financial situation. In this day and age we are very used to the idea of a fitness or nutrition coach. Well, a financial coach might be just what you need.
I have recently updated my coaching model to provide you with more flexibility and value. I want you and your family to win with money.
I can help you to get on a budget, build an emergency fund, or break out of the slavery of consumer debt. I can share with you how to start saving for college expenses and retirement.
I can help you put a plan together to win and prosper with your money so you can be a generous giver.
I want you to have hope about your financial situation. I want you and your family to start dreaming again.
Contact me today. There is always help and hope for your finances!!!
Question: What's keeping you from taking action to improve your finances?

Please follow and like us:
This post is also available in: Spanish