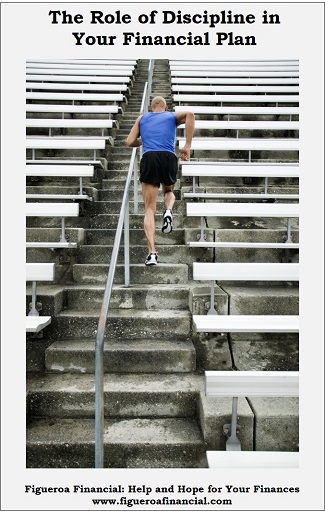 All discipline for the moment seems not to be joyful, but sorrowful; yet to those who have been trained by it, afterwards it yields the peaceful fruit of righteousness.
Hebrews 12:11 (NASB)
The Scripture verse above highlights the word discipline. So what's discipline?
In looking at a couple of dictionary definitions, you can see that discipline can be defined as the ability to keep working at something that is difficult.
Another definition states that discipline is an activity that is done regularly as a way of training yourself to do something or to improve your behavior.
So the notion both from the Bible and from the secular definitions is that, discipline involves hard work, dealing with a difficult situation, on a regular basis, for a period of time, with the ultimate reward of improving your current situation.

Discipline in Your Financial Plan
Discipline enables you to:
If you are in bad shape with your finances, realize that you did not get here overnight. But also realize that you can turn things around starting today.
Your Challenge
You can make the decision to get on different plan that gives you and your family hope for the future. But wishing for a different outcome is only part of the equation.
You need a plan and you need to act on your plan with urgency and discipline. If you need help, I can coach you through the process.
Don't wait any longer. The time is now and the only person that can change your financial plan is you. Let's get going!
Question: What other examples can you share about applying discipline in your financial plan?

Please follow and like us:
This post is also available in: Spanish