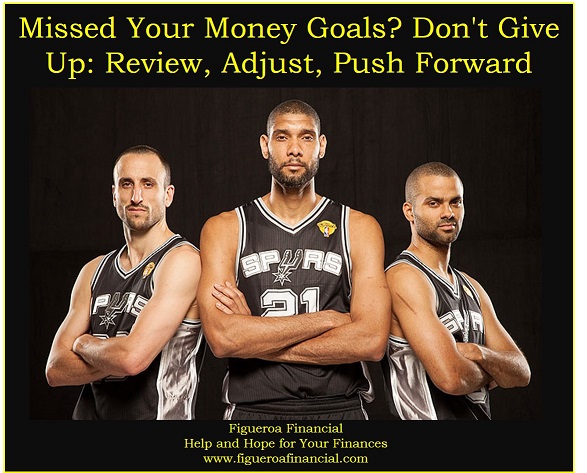 A little while back I shared that I had set a goal for losing weight this year.
I set a target amount and a target date of June 30.
Well the target date has arrived. I can report that I have reached about 30% of my goal. In other words, I missed my goal.
So the question is, do I give up?
Not a chance! Setting up an improvement goal helps you focus your efforts.
And even when you miss a target, you are still better off simply because you tried to get better.

In game 6 of the 2013 NBA Finals, the San Antonio Spurs were 28.5 seconds away from winning their 5th NBA title in 2013. They ended up losing that game and eventually the series to the Miami Heat in 7 games.
The Spurs could have thrown in the towel, never think about it again and let that loss overwhelm them. Instead, that loss became a motivating factor.
This year, they went through an entire NBA season and 3 rounds of playoffs just to get a chance to play Miami again. But they were ready and won the 2014 title in 5 games.
So if you have missed your money goals so far this year, don't give up. Instead, review, adjust, and push forward.
Review Your Results
In looking over the last 6 months, I can first focus on what went well with my weight loss goals.
I did lose some weight. My clothes fit me better. I feel great and I am more active. And I am making better choices with my food. I can celebrate all of that.
When you look at your money goals, you too can focus on what went well. Did you start using a budget? Did you finish your starter emergency fund?
Have you paid off any of your debts? Are you now paying more attention to your money?
When you focus on what results you have accomplished thus far, you can maintain your hope that you will win the battle to gain control of your finances.
Adjust Your Goals as Needed
For me now is time to see if my goals were realistic and adjust as needed. I am convinced I can do better and I can reach my ultimate goal.
It make me longer so now, I have set a new target date for around my birthday in September. And I also have added a new goal: I am going to run my first 5K this year.
With your money you also may need to adjust your goals. Maybe you need to add more extra hours so you can increase your income.
Maybe you need to trim your budget even more. Or simply your initial target for getting out of debt was a bit unrealistic.
It could also be that no major adjustments are needed. Whatever the case, do make sure you take some time to think about any changes you need to make.

Push Forward
For me and my weight management goals, there is no going back to what I was doing last year. That was not working for me.
No, I am going forward. I have reset my goals, I have a plan, and I am pushing forward. No retreat, no surrender.
In the battle to gain control over your finances, you can't give up either. You have to keep pushing forward.
Not having any control over your money, not having any savings, being deeply in debt is no way to live.
You can do better and I know you will. Just push forward and don't give up!
Question: How will you keep pushing forward with your financial goals?
Please follow and like us:
This post is also available in: Spanish