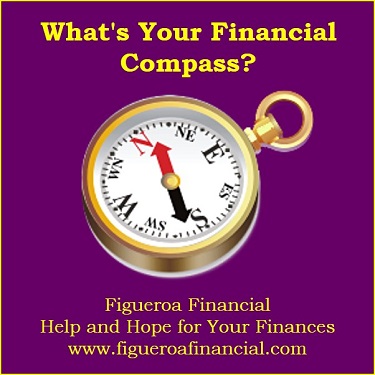 My wife Stacey and I just returned from a great 10 day vacation. It was our third straight year of going on a baseball tour road trip.
You see, we are huge baseball fans and we have a goal of attending a game in each of the 30 Major League Baseball (MLB) stadiums.
This year we hit numbers 14 (Chase Field, AZ) and 15 (Coors Field, CO).
I usually do all the driving and because I don't have a great sense of direction, I leave all the navigation to my very bright wife.
All I need to do is follow her directions because she has planned the trip and is constantly looking at the map. She is my compass.

Because I have a sense of peace and direction, I can focus on my driving which requires my full attention especially if I am going to places I have never been.
A compass will always tell you which direction you are headed, but most importantly what is the true north.
When it comes to your money, what's your financial compass? How do you know you are headed in the right direction with your finances?
Your financial compass is defined by your view of money, who is influencing you on money, and your priorities and goals.
What's Your View of Money?
This is a most fundamental question to answer. Do you see money as something good or something evil?
Do you see money as a tool to help you achieve your goals or do you see money as the goal to achieve?
Do you believe you can win with money are you convinced that the game is rigged and only the rich get richer?
Do you tend to be generous with money or are you more of a hoarder of money, the more you have, the more you want? In other words are you a river or a pond?
Your attitude, your philosophy about money will frame your financial compass and your actions.
Who is Influencing You on Money?
Your first influencers are your family of origin. What did your parents teach you about money? More importantly, what did they show you about money?
Were they spenders or savers? Did they rely on debt for anything and everything or were they patient and saved for what they wanted to buy?
Did they work together on money or fought about it constantly? Or did they simply not talk about money at all?
However your parents dealt with money, it will have an influence on what you do with money, so you need to understand that and adjust as needed.
And what about today? Your friends and immediately family are your influencers. They probably have their opinions on money and are not shy about expressing them.
Is that driving your decisions and views? More importantly, are they winning with money? Is their advice worth something?
And then you have what the world says about money. There are lots of people (including me!) offering advice and counsel on what do about money.
Are you going with the majority opinion on money matters?
Just let me say one thing: conventional wisdom is not the same as common sense.
Whose advice are you following?

What are Your Priorities and Goals?
Do you know what you want to do with money? What is it that you want to achieve?
Is your end goal merely living for yourself and for the moment? Get what you want, when you want it, regardless of the cost. Just because you deserve it.
Or is one of your goals to love your family well and take care of them first? To leave a legacy of wise financial management for generations to come.
Do you want to work at that job forever just because you need it to pay bills? Or do you want to have options and do things on your own terms?
Is your goal simply to look inward and take care of you? Or do you want to extend your influence with generous, extravagant giving?
The answers to these questions put the final frame on your financial compass.
Your view of money, your influencers, and your priorities and goals will define your beliefs and will drive your actions.
Give yourself honest answers and you will know what your financial compass is and where you are headed with money.
Question: Is your financial compass pointing to the true north?
Please follow and like us:
This post is also available in: Spanish