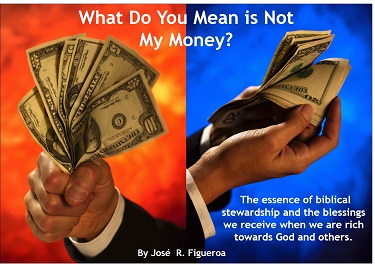 I am very happy announce that I have just my published my new e-book for the Kindle! The title of the book is "What Do You Mean is Not My Money?".
In this book I give you my point of view on the essence of biblical stewardship and the blessings we receive when we are rich towards God and others.
I think it is important for Christians to have a clear perspective on stewardship so it can become a joyous adventure and not a dreadful duty.

In the book, I go straight to God's Word to understand our roles as stewards and God's role as owner.
I also cover some of the most common questions on this grace of stewardship, share with you the secret of contentment, and talk about how we can have generosity as a lifestyle.

I wrote this book because having the proper view of biblical stewardship is fundamental for God's people.
We need to have the proper view of stewardship so we can glorify Him with our finances.
Are you ready to be rich towards God and others? Get the book today!
"Whether, then, you eat or drink or whatever you do, do all to the glory of God."
I Corinthians 10:31 (NASB)
Please follow and like us:
This post is also available in: Spanish