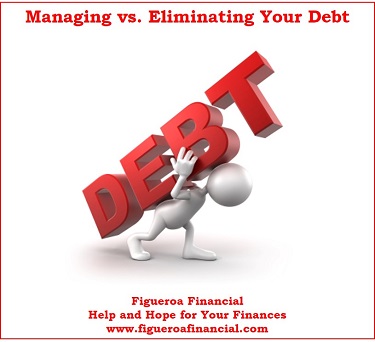 I have a question for you. Should you be managing your debt or eliminating your debt?
This is a key question that you must answer and your response will determine your level of success with your finances.
If you are comfortable with keeping and managing your debt, you will spend your time making just the minimum payments, worried about how to increase your FICO score, and looking for options to move your debt around to the next card that offers you a "free interest balance transfer".
You will be ok with always having a car payment and just using credit to get anything you think you need.
Debt will always be your companion.

However, if your focus is on eliminating debt, you will put your energy on how to increase your income or cut your budget so you can apply more of money to your debt snowball.
You are not simply playing with credit cards, you are ready to break up with them for good.
You will learn to be patient and save for the things you want to buy.
Debt will no longer your companion, but your enemy. The enemy of your financial prosperity. Once you are done with it, you can move on to bigger and better things.
What will it be for you? Will you keep working on managing your debt or will you put your focus and passion on eliminating your debt?

Please follow and like us:
This post is also available in: Spanish