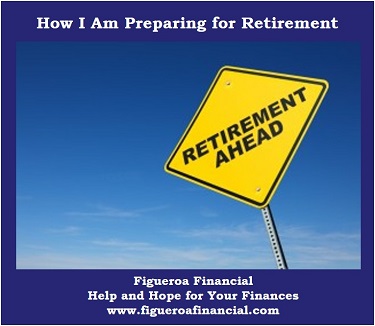 During this month I will officially hit my mid 40s. This will also put me within 10 years of being eligible for retirement.
So I decided to take a moment and evaluate how I am doing in my preparation for that milestone.
I am not saying that I plan to retire 10 years from now, but it will be nice to have the option available to me.
Even with all the focus on personal finances today, planning for retirement is one area where we continue to come up short.
My fellow financial coach Jon White, recently shared some pretty depressing statistics about retirement. Out of the list, here are the 3 that caught my attention the most:
Average savings of a 50 year old: $43,797

.

Percentage of Americans who don't save anything for retirement: 36% (more than 1 in 4).
Percentage of people ages 30-54 who believe they will not have enough money put away for retirement:

80%

.
The good news is that you can do better than average. Seven years ago, I was part of those statistics but now I have a plan that is yielding good results.
Here is a simple strategy that you can follow to prepare for your retirement:
Let me know what you think!
I. What I Have Done
Learned to live on less than I make. With a monthly spending plan (budget) in place our money works harder for us.
Eliminated all consumer debt. My wife and I have been debt free (except for the mortgage) for almost 5 years now. Without debt payments, we have an increased cash flow that enables us  to save for retirement.
Built an emergency reserve of 6 months of expenses. When life happens and we need to address a financial crisis, we can turn it into an inconvenience.
When we bought our house, we got one that fit our income level, with a monthly payment of no more than 25% of our take home pay and with loan term of 15 years.
Purchased term life insurance. I have about 8-10 times my annual income. In the event of my passing, my family will be well taken care off financially without having to use any retirement savings.
Determined what my monthly retirements savings should be based on my desired level of income at retirement. You can use this simple form to do to the same.

II. What I am Doing Right Now
Contributing to a 401K plan. I am contributing up to the match offered by my company. I also took the option of contributing to a Roth 401K plan. The difference between a traditional 401K plan and a Roth 401K plan, is that the Roth 401K grows tax free. Chances are that you will be in a higher tax bracket when you retire, so it is better to pay taxes now. Sadly, according to Money Magazine, only 6% of workers who are eligible for a Roth 401(k), have signed up for one. Make your contributions with after tax dollars!
Contributing to a Roth IRA. You should be putting 15% of your annual gross income towards retirement. I am doing that by combining contributions to the 401K plan and to the IRA. Again, if you qualify, a Roth IRA is a better option than a traditional IRA because it grows tax free. Another one of my fellow financial coaches, Steve Stewart, pointed me to this useful guide on Roth IRAs.
Keeping my investing strategy simple. In both my 401K and Roth IRA I am investing solely in 4 kinds of growth stock Mutual Funds with a long track record. No single stocks and no bonds funds.
Monitoring my investments with a long term view. In spite of all the alarmist reports from the news, the stock market has done very well historically. Yes, check regularly how you are doing, but turn off the daily news. Having a long term perspective will keep you from making rash decisions with your money.
Paying extra on the mortgage. Even though we have a 15 year mortgage, we don't intent to stay in debt that long. My goal is to pay that mortgage off by the time I turn 50 (or in 5 years).

III. What I will Do in the Future
Pay off the mortgage. Imagine getting to retirement without a mortgage payment. Would you prefer the peace of mind of having your home be truly yours, or would you rather hang on to that mortgage to keep your tax deduction? Think about it!
When I turn 60, I will purchase Long Term Care Insurance. This is the type of insurance that covers the costs of a nursing home or in-home nursing care. This type of expense can really eat into your retirement nest egg and you need a hedge of protection around it.
Continue working and continue being productive. In reality, I never intend to officially "retire". The notion implies moving to a location with a warmer climate and taking it easy all day. I may transition to a different kind of work when I hit that milestone with my current job, but I am not retiring ever. I have plans to continue doing all that God has in front of me and I need to be prepared for that transition to the best of my ability.
Planning for the future is a sign of wisdom. As a Christian, I want to live like Christ died yesterday (always remembering His sacrifice), rose today (with great joy), and is coming back tomorrow (with great hope).
Until He returns, I have work to do. How about you?
"So teach us to number our days, That we may present to You a heart of wisdom."
Psalm 90:12 (NASB)
Please follow and like us:
This post is also available in: Spanish