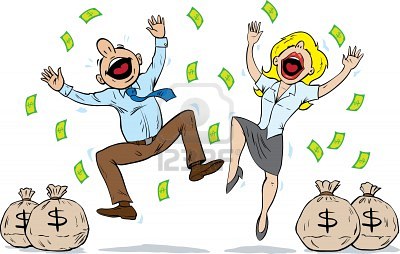 Would you like to get control of your money? Would you like to finally win with your finances? I am sure the answer to those questions would be a resounding "Yes!!!". Then you might ask: "Where do I start?" or "How do I start?" The good news is that the principle for winning with your finances is a simple one: You have to pay attention to what's happening with your money. That's it.
Now the bad news is that this involves some work on your part. But then again, there is no one else that will do the work for you so you have no choice. The person is you and the time is now. So let me give you 5 habits of people that win with their money:
Track all of your expenses. You can use the old fashioned (but reliable) approach of tracking expenses with your checkbook registry. Or you can try software on your computer (e.g., like Quicken) or on-line. Whether you took $20 out of the ATM or just spent $150 at the hardware store, make sure you have a permanent record of where your money went.
Balance your checkbook. Speaking of that old checkbook register, it is a good idea to reconcile your checking account once a month. You will receive a statement from your bank or credit union so take advantage of it.
Monitor your bank accounts. You don't need to do this every day, but you should keep an eye on your bank account on a regular basis to spot incorrect charges or charges due to identity theft. You don't want to be surprised by an overdraft.
Pay your bills on time. This seems like a basic one but it can get you in trouble. Suppose the payment you sent by mail did not get there. Suppose you paid it on-line but just missed the deadline by 30 minutes. You might be risking late fees when they could have easily been avoided.
Live on a Monthly Budget

.

Lay out all monthly income. Then spend the money "on paper" before the month begins. If you have developed the first 2 habits, getting a handle on your expenses becomes much easier. Click here for a sample budget template: Budget Template.
So there you have it: simple but it requires work. Just like with anything in life that is worth doing, you have to pay a price to win. Will you start today?
Be diligent to know the state of your flocks, And attend to your herds;
Proverbs 27:23 (NKJV)
 Presione aquí para leer la version de este artículo en Español.
Please follow and like us: