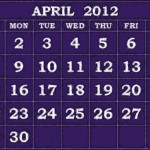 In case you missed any of the posts during April, you can access the posts below. Remember: there is always Help and Hope For Your Finances!
Financial News Articles in April
Quote of the Month
"Give whatever you are doing and whoever you are with the gift of your attention." – Jim Rohn
Presione aquí para la versión de este artículo en Español.
Please follow and like us: