Uno de los desafíos en el desarrollo de un presupuesto de trabajo es saber cuánto asignar a cada categoría de gasto. Tal vez acabas de empezar y no has hecho un seguimiento de sus gastos durante mucho tiempo por lo que es difícil estimar los gastos. O has estado siguiendo tus gastos durante algún tiempo, pero siempre estás sobreestimando en algunas áreas mientras que en otras has estando subestimando.
En cualquier caso, aquí están las pautas para porcentajes recomendados en cada categoría principal. He utilizado estas directrices en los últimos 5 años para ayudar a planear y administrar mi propio presupuesto. Pero recuerda, estos son sólo directrices. Úsalos para ayudarte a planificar tu presupuesto para el próximo mes y cada mes siguiente.
¿Preguntas? ¡Ya sabes dónde encontrarme!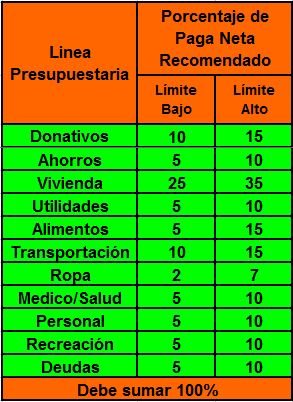 Click here for the version of this post in English.
Please follow and like us: