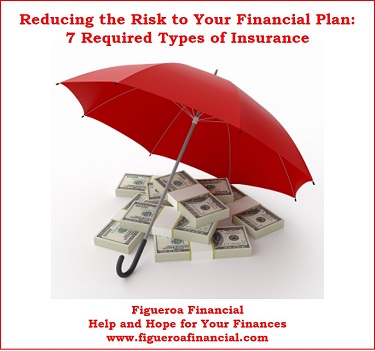 As this year winds down, it is the perfect time to start planning for the new year.
You might be thinking of setting goals to gain control of your finances by getting on a budget, saving more and getting out of debt.
As you work on your financial plan, I also want you to consider the need to manage the risks to your finances by evaluating the role of insurance in your financial plan.
What is the role of insurance? In simple terms, insurance is the tool that is designed to protect you and your family against what might happen.
When you have the right level of insurance coverage in place, you are transferring the risk to another entity (an insurance provider) and you pay a premium for that risk transfer.
7 Required Types of Insurance
If you think about it, insurance works like an umbrella works when it rains. The umbrella does not stop the rain, but it keeps you from getting wet.
Likewise, having the proper insurance won't stop an event, but it will help you weather the storm and minimize the impact to your finances. So what types of insurance do you need?
1. Home Insurance/Renters Insurance
Your home is your most valuable asset so you need to ensure it is properly covered.
Be sure that you review your policy on a regular basis so the coverage you have stays in step with the value of your home.
Another option is to look for a policy that provides "guaranteed replacement cost" for your home.
This type of coverage is rare these days but you should still look for it. If you are renting, you also need to have the proper coverage on your assets to cover against the loss due to theft or fire as an example.
2. Auto Insurance
You should have both liability and collision coverage on your vehicles.
Having at least liability coverage is a legal requirement in the U.S.
3. Health Insurance
This is one of the most critical areas to have the proper coverage. Medical bills are consistently a leading cause of personal bankruptcy.
In order to save in your premiums, you can increase your deductible and/or co-insurance amounts.
You should also evaluate if a Health Savings Account (HSA) might be a good option for you.
The HSA is a tax-sheltered savings account for medical expenses that works with a high deductible insurance policy.

4. Long Term Disability Insurance
This is the type of insurance that would replace your income if you were to be disabled from working for an extended period of time.
The best deal in this area is when it is offered by your employer at a discounted rate.
You need to look for a policy that is designed to replace 65% of your income.
5. Identity Theft Insurance
Identity theft is one of he fastest growing crimes in the U.S. Over 200 million people have had their identities compromised in a data breach since 2005.
The best type of identity theft coverage not only monitors for identity theft but also assigns a counselor/specialist to deal with the restoration services on your behalf.
If your identity is stolen, the biggest and most time-consuming problem is dealing with creditors to restore your good name.
6. Life Insurance
If you have anyone depending on your income, you need to make sure they will be taken care of in case something happens to you.
The recommended coverage amount is 8 to 10 times your annual income.
The preferred option is to have 20 to 30 year Term Life insurance. It is a less expensive option than Cash Value or Universal /Whole Life type of insurance.
The industry is very competitive so if you are healthy you should be able to get great coverage for a great price.

7. Long Term Care Insurance
This is the insurance that would pay for the expenses in a retirement home, at an assisted living facility, or for in-home care.
These expenses are very high and if not covered could quickly eat through your retirement nest egg. 69% of people over the age of 65 will require long-term care at some point in their lives.
You should put this insurance in place for yourself as soon as you turn 60 years old. Be sure to include a cost-of living rider and that the pay-out period is "until death".
So, how well covered are you? Do you understand the risks to your household?
What do you need to do today to reduce the risks to your finances? Review your insurance position today!
Please follow and like us:
This post is also available in: Spanish