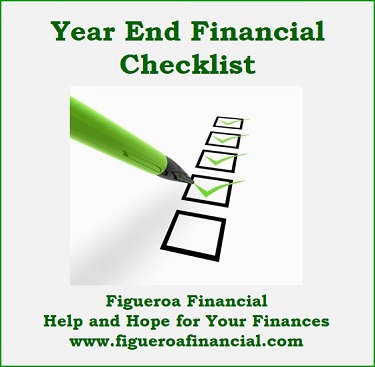 Can you believe we are near the end of the year already?
Time flies and I am sure that if you are like me,  you are looking forward to the holiday celebrations and some well deserved rest.
However, before the year runs out, I wanted to give you a year end financial checklist.
The great Zig Ziglar said: "It's true. Spectacular preparation precedes spectacular performance."
These actions will help you prepare to  start the new year on the right foot with your finances:
1. Check your Credit Report
Have you checked your credit report lately? This is something you should do at least once a year.
According to the Federal Trade Commission (FTC):
"A credit report includes information on where you live, how you pay your bills, and whether you've been sued, arrested, or filed for bankruptcy.
Nationwide consumer reporting companies sell the information in your report to creditors, insurers, employers, and other businesses that use it to evaluate your applications for credit, insurance, employment, or renting a home."
The Fair Credit Reporting Act (FCRA) requires each of the nationwide consumer reporting companies — Equifax, Experian, and TransUnion — to provide you with a free copy of your credit report, at your request, once every 12 months.
So take the time to request a copy of your credit report.
You can order your free annual credit report online at annualcreditreport.com, by calling

1-877-322-8228

, or by completing the Annual Credit Report Request Form and mailing it to:

Annual Credit Report Request Service
P.O. Box 105281
Atlanta, GA 30348-5281

Get a report from each one of the agencies.

They are supposed to cover the same information but there can be differences.
In some cases entries in one report will not show up on the other reports.

In case you cannot get a copy of your report from the online website, proceed with the phone call or complete the form to request via  mail.

Just make sure you get your hands on that report.
If I had done this, I would have taken the steps to correct the problem before starting the mortgage refinance.

Review your report for any inaccurate entries.

Keep in mind that only entries that are inaccurate can be removed from the report.
Don't fall for scams that promise to "clean-up your credit".

If you find any inaccurate entries, contact the appropriate credit reporting agency.

Send a letter via c

ertified mail, return receipt requested detailing the inaccuracies

.
Consumer reporting agencies must correct or delete inaccurate, incomplete, or unverifiable information.
Inaccurate, incomplete or unverifiable information must be removed or corrected, usually within 30 days.
Additional information can be found at the FTC website.

2. Assess Your Insurance Needs
As you work on your financial plan, I also want you to consider the need to manage the risks to your finances by evaluating the role of insurance in your financial plan.
What is the role of insurance? In simple terms, insurance is the tool that is designed to protect you and your family against what might happen.
Ensure you have the right type of insurance and the right coverage to protect your financial plan.
3. Check Your Retirement Plan
Understand how your plan is progressing and make adjustments as needed.
Even with all the focus on personal finances today, planning for retirement is one area where we continue to come up short.
The good news is that you can do better than average. Seven years ago, I was part of those statistics but now I have a plan that is yielding good results.
Here is how I am preparing for retirement.
4. Prepare a Will
Do you have a will? If not, you are among 50% of Americans with children who have neglected this important step.
So what are some of your reasons for not dealing with this issue? You might think it is costly (it is not), or complex (it is not), or that simply you don't have anything to leave to anyone so you don't need a will (oh but you do).
Or you might just not want to think about your own mortality.
However, the reality is that we will all face death and the sooner you face that fact, the better off you will be.
So here are the 3 Reasons you should prepare a will:
Because it puts you in control:

If you die without a will, the state takes over deciding what happens with your property.
The state already has too much say in what happens in our private lives.
There is no wisdom in leaving the disposition of your assets to the government.

Because it is simple and cost effective:

You don't need a high priced estate lawyer to do this. For most of us it is really a simple process.
Personally I used an online service that provided my wife and I with the required state specific forms for our wills.
It just took a few hours and less than $50 and we are able to put our last wishes on paper.

Because it shows love for your family:

Imagine if something were to happen to you. In the midst of the grief and sorrow of losing you, your family also has to deal with the legal ramifications of what to do with your assets.
Don't leave a problem behind. Love your family to the end by taking care of your will preparation today.

5. Get on a Budget
I have always told you, the budget is the key to your financial success.
If you can't control your money, you can't build savings, you can't pay-off debt, you can't plan for the future.
Make 2015 your best financial year by starting to get control of your money today!!!
What other steps could you take this month to help you make progress with your money in 2015?
Please follow and like us:
This post is also available in: Spanish