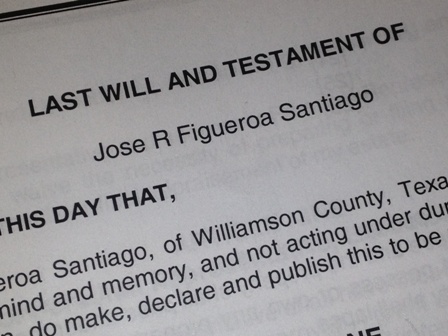 ¿Tienes un testamento? Si no, estás entre el 50% de los estadounidenses con hijos que han dejado de lado este importante paso (Yahoo Finance, Mayo de 2012).
¿Cuáles son algunas de las razones para no hacer frente a este problema? Podrías pensar que es costoso (no lo es), o complejo (no lo es), o que simplemente no tienes nada que dejar a nadie por lo que no necesitas un testamento (pero si te hace falta).
O es posible que no quieras pensar en tu propia mortalidad. Sin embargo, la realidad es que todos vamos a enfrentar la muerte y cuanto antes te enfrentas a ese hecho, el mejor de usted será. Así que aquí están  las 3 razones por las cuales debes preparar un testamento:
Porque te  pone en control: Si mueres sin un testamento, el estado se hace cargo de decidir lo que pasa con tu propiedad. El estado ya tiene mucho que decir sobre lo que sucede en nuestras vidas privadas. No hay sabiduría en dejar la disposición de tus bienes al gobierno.
Porque es sencillo y económico: No necesitas un abogado de bienes de alto precio para hacer esto. Para la mayoría de nosotros es realmente un proceso simple. Personalmente he usado un servicio a través del Internet que nos proporcionó mi esposa y yo con los formularios requeridos específicos para nuestro estado. Sólo tomó un par de horas y menos de $50 y pudimos poner nuestros últimos deseos en papel.
Porque demuestra el amor por tu familia: Imagínate si algo llegara a sucederte. En medio del dolor y la tristeza de perderte, tu familia también tiene que lidiar con las ramificaciones legales de qué hacer con tus bienes. No los dejes con un problema. Ama a tu familia hasta el final y prepara tu testamento hoy.
 ¿Qué otras objeciones o preguntas tiene acerca de preparar un testamento?
Click here for the version of this post in English.
Please follow and like us: