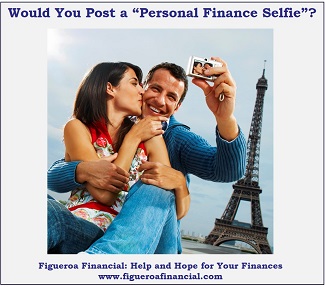 Have you been caught in the "selfie" craze?
Recently, Oscar Awards ceremony host Ellen DeGeneres posted the most retweeted "selfie" to this point (over 3M retweets).
With the proliferation of both smart phones and social media, everyone is posting pictures of themselves and sharing them with the people in their networks.
Typically you want to celebrate how you look, what you are doing, and in Ellen's case, who is hanging out with you.

But would you post a "personal finance selfie"? Would you be willing to be open and share how well you are doing with money?
Well the answer is probably no, simply because how you are doing with your money is a very personal and private matter. We typically do not like to broadcast that information or even discuss money matters with anyone outside of our own household.
But let's assume that we could get past the privacy issue. What sort of picture could we create to generate a snapshot of your finances?
I think a "personal finance selfie" could include objective items such as:
Annual Household Income
Assets (what you own): Emergency savings retirement savings, property equity.
Liabilities (what you owe): Consumer debt, Mortgage.
Net Worth (Assets – Liabilities)
Annual Charitable Giving
Your "personal finance selfie" could also include more qualitative items such as:
Are you managing your money with a monthly budget?
If you are married, are you working with your spouse on money matters?
If you have children, are you teaching them how to handle money?
How do you deal with major purchases? Do you use debt or do you save to pay cash for those items?
Do you review your credit report at least once every year?
Do you have the required insurance to handle the risks to your finances?
Have you prepared a will?
So as you evaluate and gather this information, you can get a pretty clear picture of where you stand financially.
And don't worry, I don't want to see your selfie. This "personal finance selfie" is just for you.
You are the one who has to be in charge and know what's happening with your money.
You are the secret sauce to your financial success.
It's all up to you, so go ahead and take charge and win with money. It is possible!!!
Then send me a selfie of all the fun and great things you are doing because you decided to take control of your finances.
That's one selfie I would love to see and retweet to celebrate with you.
Question: How satisfied are you with your "personal finance selfie"?

Please follow and like us:
This post is also available in: Spanish