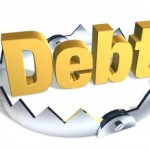 Cuando leo artículos financieros y discuto temas financieros con la gente, es muy claro que la mayoría de las personas están de acuerdo en que entrar en deudas y quedarse en la deudas puede ser perjudicial para tus finanzas.
Sin embargo, nuestra comprensión intelectual no coincide con nuestro comportamiento. En promedio, los estadounidenses tienen 4.4 tarjetas de crédito con una deuda promedio de $ 3,300 (considerando trabajadores administrativos y profesionales), aun cuando la tasa de interés promedio es del 15% ("Money Magazine", Julio de 2012).
Normalmente, prefiero escribir acerca de cómo salir de las deudas. Sin embargo, hoy quiero pasar un momento discutiendo el "por qué" de las deudas. Si entendemos la raíz del problema, podemos tomar acción para cambiar nuestro comportamiento.
 ¿Por Qué Nos Endeudamos?
No planeamos para los gastos.

Falta de control sobre nuestro dinero cuando no tenemos un plan de manejo de dinero que sea efectivo (es decir, un presupuesto). Parece que no tenemos suficiente.
Falta de disciplina para ahorrar dinero para gastos mayores. Confundimos una línea de crédito con una reserva de emergencia.

Queremos aprovechar las "ofertas"

Pasamos nuestro tiempo persiguiendo a las recompensas y aumentando el número de millas aéreas, puntos para otras compras, etc.

Somos influenciados por la cultura

Aceptamos que pagar interés es una forma de vida. El pago de intereses siempre te impedirá prosperar.
En última instancia, somos víctima de la trampa de querer todo ahora. Cambiamos la satisfacción inmediata de hoy por la mejor recompensa de un futuro financiero estable.
¡Sal de la trampa hoy mismo! Desarrolla un presupuesto, ahorra para emergencias, decide que vas a aprender a esperar y ahorrar para comprar lo que quieres.
Es posible que hayas caído en las deudas, pero no tienes que quedarte allí. Como siempre lo ha sido, es tu elección.
 "La deuda es tonta. Las personas más normales están quebradas porque están en deudas hasta sus ojos sin esperanza de ayuda. Si tu estás en deuda, entonces eres un esclavo porque no tienes la libertad de utilizar tu dinero para ayudar a cambiar tu árbol genealógico."
Dave Ramsey
Click here for the version of this post in English.
Please follow and like us: