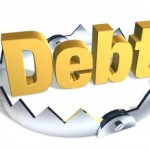 As I read financial articles and discuss financial topics with people, it is very clear that most people agree that getting into debt and staying in debt can be harmful to your finances.
However, our intellectual understanding does not match our behavior. On average, Americans carry 4.4 credit cards with a median balance of $3,300 (managerial and professional workers) even when the average interest rate is 15% (Money Magazine, July 2012).
Normally I would write about how to get out of debt. However, I want to spend some time addressing the the "why" of debt. If we understand what is at the root of the problem we can address it and change our behavior to match our intellect.
Why do we go into Debt?
We don't plan for expenses.

Lack of control over our money when we don't have a cash flow plan (i.e., a budget). It seems we don't have enough.
Lack of discipline for saving money for major expenses. We mistake a credit line for an emergency fund.

We seek to take advantage of "deals"

We spend our time chasing rewards and building up our number of airline miles, points for other purchases, etc.

We are influenced by the culture.

We accept that paying interest is a way of life. Interest payments will always keep you from prospering.
Ultimately, we fall victim to the trap of wanting everything now. We exchange the immediate satisfaction of today for the better reward of a stable financial tomorrow.
Get out of that trap today! Get on a budget, save for emergencies, decide that you will learn to wait and save to buy what you want.
You may have wandered into debt, but you don't have to stay there. As it always has been, it's your choice.
"Debt is dumb. Most normal people are just plain broke because they are in debt up to their eyeballs with no hope of help. If you're in debt, then you're a slave because you do not have the freedom to use your money to help change your family tree."
Dave Ramsey
Presione aquí para la versión de este artículo en Español.
Please follow and like us: