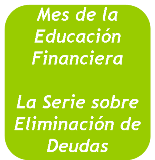 Subscribe to future posts from Figueroa Financial by e-mail
Esta semana continuamos nuestra serie en honor al Mes de la Educación Financiera. Estamos compartiendo algunos de nuestros artículos previos sobre lo que considero las cuatro categorías clave para la buena administración financiera: el presupuesto, el ahorro, la eliminación de las deudas, y el dar.
Creo que si una familia puede aprender a lidiar con estas 4 áreas de la administración del dinero, se pondrá en el camino hacia el bienestar financiero. Hasta ahora hemos cubierto los temas de presupuesto y ahorrar dinero.
Esta semana nos estamos enfocando en el tema de la eliminación de deudas. La deuda es el enemigo número uno de tu bienestar financiero. Va a paralizar tu capacidad de ahorrar dinero y de acumular riquezas. La deuda actúa como el proverbial agujero en el bolsillo. Pones el dinero adentro y simplemente se desvanece. La deuda es también implacable con los tipos de interés diarios compuestos. No se detiene.
Éstas son sólo algunas cifras que reflejan nuestro grave problema grave con las deudas (gracias a Infowars.com Alex Jones)
La deuda del consumidor es de $2.5T.
46% de los estadounidenses tienen un saldo en sus tarjetas de crédito.
El balance promedio de tarjetas de crédito es

$15,799

.
La deuda de préstamos estudiantiles es de alrededor de $1T.
El préstamo promedio estudiante carga de la deuda es ahora aproximadamente

$25K

.
Va a ser muy díficil para prosperar con tudinero cuando estás agobiados por deudas grandes. Así que espero que leas algunos de los artículos siguientes y que tomes la decisión de salir de las deudas de una vez y por todas. Puedes vivir sin la muleta de la deudas en tu vida.
¿Qué vas a hacer hoy para lidiar con tus deudas?
La Serie Sobre Eliminación de Deudas
Información Adicional
 Click here for the version of this post in English.
Please follow and like us: