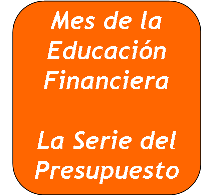 Subscribe to future posts from Figueroa Financial by e-mail
En los Estados Unidos Abril es reconocido como el Mes de la Educación Financiera (FLM por sus siglas en inglés). Es un esfuerzo para resaltar la importancia de la educación financiera y enseñar a los estadounidenses cómo establecer y mantener buenos hábitos financieros.
Este es un gran esfuerzo ya que las estadísticas nos dicen que los estadounidenses siguen llevando una gran cantidad de deudas de consumidor (más de $2T), la mayoría todavía no se prepara un presupuesto mensual (65%), y las tasas de ahorro personal siguen siendo bajas. Para obtener más información sobre el Mes de la Educación Financiera, puedes visitar: http://www.financialliteracymonth.com/.
Así que en honor a este mes, voy a compartir algunos de nuestros artículos anteriores sobre lo que considero las cuatro categorías principales para la administración financiera: el presupuesto, el ahorro, la eliminación de la deuda, y el dar. Creo que si una familia puede aprender a lidiar con estas 4 áreas de la administración del dinero, se pondrá en el camino hacia el bienestar financiero.
Esta semana vamos a comenzar con la Serie sobre el Presupuesto. Porque si no puedes controlar tu dinero a través de un presupuesto, no puedes acumular ahorros, no puedes pagar tus deudas, y no puedes planificar para el futuro. Ahí es donde todo comienza.
La Serie sobre el Presupuesto
Click here for the version of this post in English.
Please follow and like us: