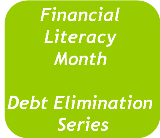 Subscribe to future posts from Figueroa Financial by e-mail
This week we continue our series in honor of Financial Literacy Month (FLM). I am sharing some of our previous posts on what I consider the four key categories for financial management: budget, savings, debt elimination, and giving.
If a household can learn how to deal with these 4 areas of money management, it will get on a path to financial wellness. So far we have covered the topics of budgeting and saving money.
This week we are focusing on the subject of debt elimination. Debt is the number one enemy of your financial wellness. It will cripple your ability to save money and to build wealth. It acts as the proverbial hole in your pocket. You put money in and it simply goes out. Debt is also relentless as the interest rate compounds daily. It does not stop.
Here are just some numbers that reflect our serious problem with debt (thanks to Alex Jones' Infowars.com)
Consumer debt is at $2.5T.

46%

of Americans carry a balance on their credit cards.
Average credit card debt balance is $15,799.
Student Loan debt is around $1T.
The average student loan debt load is now approximately $25K.
It will be very hard to prosper with your money when you are weighed down by a big debt burden. So I hope you read some of the articles below and make a decision to be done with debt once and for all. You can live without the crutch of debt in your life.
What are you going to do to deal with your debt today?
The Debt Elimination Series
Additional Information
Presione aquí para ver la versión de este artículo en Español.
9WQEPUDUFPKK
Please follow and like us: