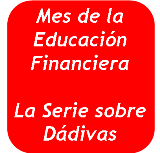 Subscribe to future posts from Figueroa Financial by e-mail
Hoy concluimos nuestra serie para el Mes de la Educación Financiera. En las últimas semanas he compartido algunos de mis artículos anteriores sobre los temas de presupuesto, el ahorro de dinero, y la eliminación de deuda. Hoy voy a poner mi atención en el tema de dar.
¿Por qué elegí estos 4 temas? Porque yo creo que cuando dominamos estas 4 áreas de administración financiera vamos a prosperar. Cuando vives dentro de un presupuesto tomas control de tu dinero y aprendes a vivir con menos de lo que ganas.
Cuando vives  con menos de lo que ganas, puedes destinar dinero al ahorro para una reserva de emergencia inicial. Si tienes algo de ahorros, puedes evitar añadir más deudas cuando se presenta una situación de emergencia. Cuando detienes la adición a tu deuda, puedes utilizar el flujo de efectivo mejorado para salir totalmente de las deudas del consumidor y puedes acumular una reserva de emergencia completa.
Entonces, con una sólida base financiera puedes empezar a planificar para el futuro (la universidad, la jubilación). Pero a medida que prosperes con tu dinero quiero que recuerdes que el dar debe ser un componente clave de tu presupuesto. Creo firmemente que una buena comprensión y práctica de los principios de mayordomía son el núcleo de un plan financiero exitoso.
La generosidad es una marca distintiva de la gente que prospera con el dinero. Así que ve y gana con tu dinero, pero recuerda que debes mantener las manos abiertas para ayudar a cualquier persona que puedas, siempre que puedas, lo más que puedas. ¿Qué puedes hacer hoy para empezar a ser un dador más generoso?
La Serie Sobre Dádivas
24 Hay quien reparte, y le es añadido más, y hay quien retiene lo que es justo, sólo para venir a menos.
25 El alma generosa será prosperada, y el que riega será también regado.
Proverbios 11:24-25
Información Adicional
Click here for the version of this post in English.
Please follow and like us: